Announcement of dealings with Lloyd's 2009
Announcement of dealings with Lloyd's 2009 (January 2011 edition)
​
As one of our new options, we started trading with Lloyd at the end of 2009.
We were planning to announce that to customers, but we were late for more than one year because we could not make a guide at that time, but created so that we can send it with our New Year's card in 2011.
We received official logo from Lloyds and placed it on the top right of the card. It seems that our characters have been sent to Lloyd's, and we enjoyed making it.
ロイズとの取引のお知らせ 2009(2011年1月版)
​
弊社の新しいオプションのひとつとして、2009年の終わりからロイズとの取引を開始しました。皆様にそのお知らせをしようと思っていたのですが、そのときは案内を作っていられなかったので、1年遅れになってしまいましたが、2011年の年賀状と一緒に送ることができるように、改めて作成しました。
ロイズから正式に企業ロゴの提供を受け、カードの右上に配置しました。弊社のキャラクターたちがロイズに出向したみたいで、作っていて楽しかったです。
1コマめ(ロイズとの取引のお知らせ 2009年/英語版)
1st sheet (deal with Lloyd's 2009(2011) / English version)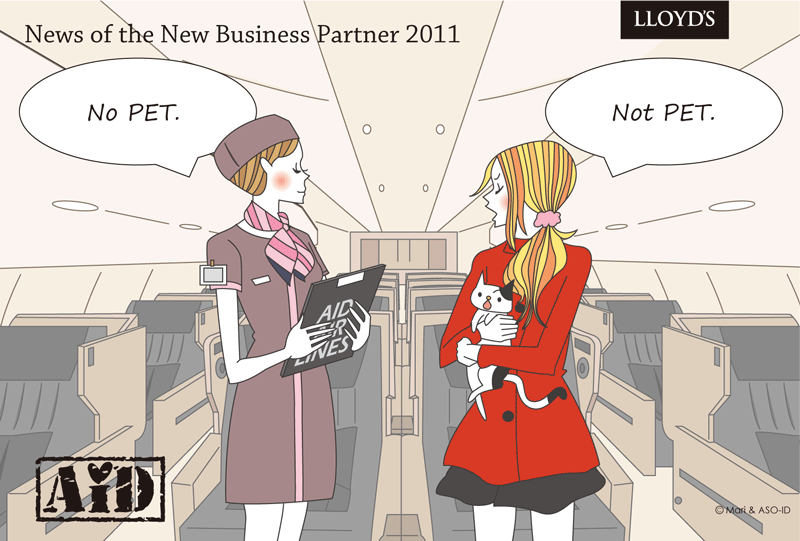 2コマめ(ロイズとの取引のお知らせ 2009年/英語版)
2nd sheet (deal with Lloyd's 2009(2011) / English version)
1コマめ(ロイズとの取引のお知らせ 2009年/日本語版)
1st sheet (deal with Lloyd's 2009(2011) / Japanese version)
2コマめ(ロイズとの取引のお知らせ 2009年/日本語版)
2nd sheet (deal with Lloyd's 2009(2011) / Japanese version)